Virtual MOU Signing between Research Synergy Foundation and Taguig City University
We are delighted to announce that Research Synergy Foundation and Taguig City University have signed a virtual Memorandum of Understanding (MoU) on June 5, 2023.
This partnership aims to strengthen the collaborative efforts between the two organizations in advancing research and development initiatives in various research fields. The virtual MoU signing marks the beginning of a fruitful relationship that will enable both parties to leverage their expertise and resources to achieve their shared goals.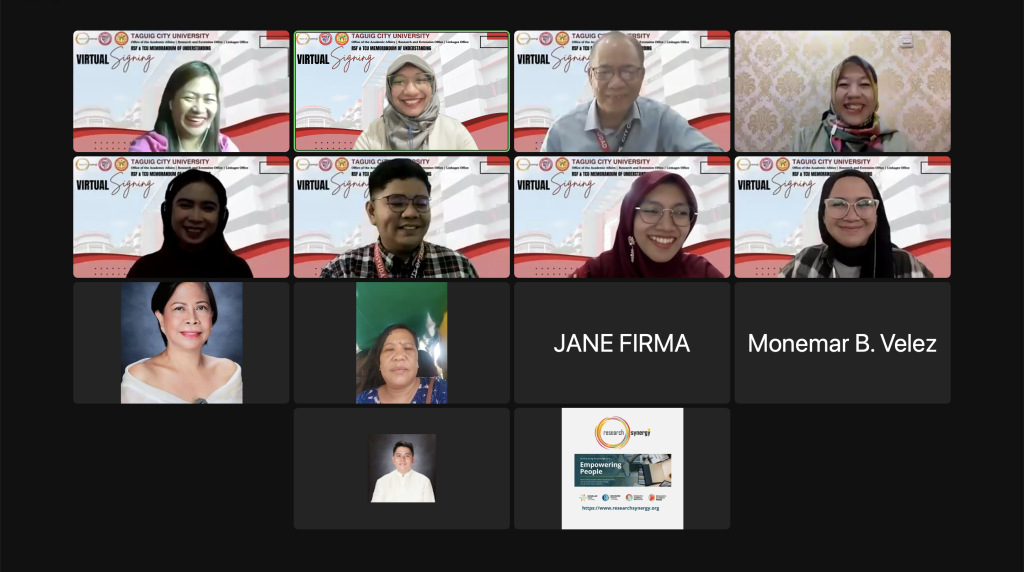 Under this partnership, Research Synergy Foundation and Taguig City University will explore and undertake joint research collaboration and enhancement programs, organize academic and scientific events/forums, and exchange knowledge and expertise. Both organizations are committed to supporting the development of the academic community and promoting innovation through research and development.
The fields that are in close attention in this collaboration are the research development and collaboration, international research publication, research enhancement program, and partnership in research conferences and forums. 
The aim of the collaboration is to be an eminent center of excellent higher education towards societal advancement. By aiming to this, Research Synergy Foundation and Taguig City University strives to nurture a culture of academic wellness, responsive to the challenges of technology and the global community in the months and years to come.
We look forward to this partnership's successful implementation and its positive impact on the academic and research communities. Together, we aim to contribute to the advancement of knowledge and promote sustainable development for the benefit of all.
#researchsynergyfoundation #taguigcityuniversity #mousigning #researchcollaboration #partnership #globalresearchecosystem